Being a Purina Certified Expert Dealer means that we offer a complete line of quality Purina feed products and have knowledgeable associates who care first about our customers, and their animals. Training is a key element for our Certified Expert staff and you can depend on us for Certified Expert advice!
Bulletin Board
When does hummingbird season begin? Click here to learn when it begins in the Lafayette area
http://bit.ly/12V1Q70
Our thoughts go out to all who were affected by the tragic events in Oklahoma.
Expert Articles & Advice
May 1, 2013
In today's society organic gardening is more popular than ever as gardeners attempt to avoid artificial fertilizers and the sometimes-harmful chemicals in pest control. People are more conscious about what they eat, and want the freshest and healthiest food possible.
May 1, 2013
Ticks are disgusting little insects that survive by sucking blood from their hosts, often times from your four-legged friend. Here are some tips to get that pestering tick out: You should check your animal pretty regularly to see if it has ticks on it.
Special Offers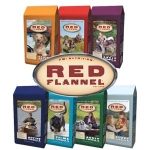 As a part of our customer loyalty program, we are offering buy 8, get 1 free on Red Flannel dog foods!
Homepage Video
Look for the Checkerboard
Quick Contact & Hours
Manager: John Chastant & Therian LaFleur
214 East Pinhook Road
Lafayette, LA 70502
Phone: 337-234-2351
Fax: 337-232-2830
Email:
chastantbros@bellsouth.net
Mon - Fri
7:30 am - 5:00 pm